BOOKS BY MARK SLADE
Available worldwide on Amazon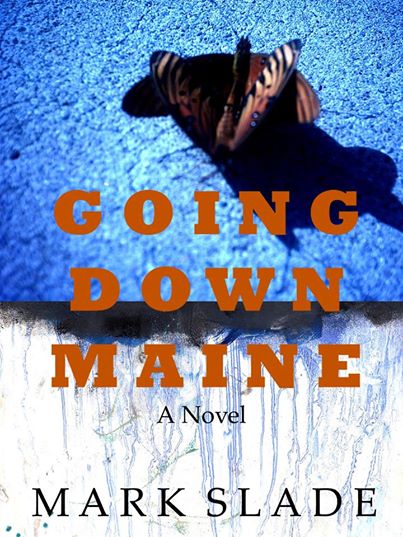 "An excellent coming of age novel with much insight and charm..." 5 Stars UK
---------"A well written novel told with great empathy and understanding." 5 Stars USA
--------"Brilliant read, loved this book, very descriptive and detailed." 5 stars UK --------"Thoroughly enjoyed this book. Once I started I couldn't put it down. 5 Stars UK
--------- "Funny,sad, moving. I loved this book" 5 Stars USA
GOING DOWN MAINE
Two Boys. One Summer. A Lifetime of Regret.
As an adult, William looks back on his own loss of innocence and the callousness of youth. A mature remembrance of the unforeseen consequences of youthful indiscretion, as he tries to understand the dark forces that defined his best friend's character. As teenagers, Billy and David, along with their beloved dog Big Red, take a trip "going down Maine" for a summer vacation. There, in a strange and isolated upper Maine coastal village, Billy reflects on his friend's increasing fascination the the disturbing history and dark secrets of the local residents. Youthful choices, on this fateful trip, set in motion a series of irreversible events that change their friendship and forever alter their paths. Here among strangers, they learn the difference between those who choose a path through life and those who fight the path chosen for them.
"Loved it! Wow, great read. The plot is sly (no pun intended) and subtly enticing, you won't know you're hooked until you try to put down the book." 5 Stars USA -----------"Last two chapters were real page turners. The book doesn't bog down, some parts are funny, but that ending!"- 5 Stars USA --------"Enjoyed this book very much" 5 Stars UK --------"So happy this story was told!" 5 stars USA --------"Well, I finished the book and thought it was excellent. I thought it depicted the West as it really was..... 5 Stars USA
HANGIN' WITH THE TRUTH
The Historically Bent Tale of the Bandit Bob Slye
In 1876, across the South Dakota Territory, a man could make his way. For a woman, skirting tradition, the harsh environment was rife with opportunity. It was a time of free land for anyone hardy enough to homestead. And, a lawless time of gold rush, conflicts with the Sioux Nation, dime novels and raw emotion.
Using mischief woven with historical fact, it is the story of when Bob Slye, a bandit by profession, met the wildly eccentric, Sally Mae Boudine, recently a sharp shooter in Buffalo Bill Cody's Wild West Show - and the possibilities were endlessly dangerous.
"Enjoyable reading...very clever and interesting style of writing." 5 Stars UK --------"Like Shel Silverstein for adults." 5 Stars USA --------"Excellent collection." 5 Stars UK ------"Appreciated the wry humor.....enjoyed the book very much." 5 Stars UK --------"Superb book, well worth owning." 5 Stars UK
OF PAIN AND COFFEE
A collection of soothes, sayings and soliloquies.....
.....From the musings of Mark Slade, that explore life's foibles and fears, joys and heartbreaks. Like a capsule of time in verse, accompanied by humorous illustrations by the author interpreting his words. OF PAIN AND COFFEE, takes the reader on a journey through the emotions, conundrums and paradoxes that surround our lives. Using simple line drawings and verse, he encourages the reader to see ourselves and the world that surrounds us with both distance and intimacy.
"I remember why I used to love poetry so! From the shared view of small things that mean more (the title poem), to "That One" that we've all wondered about, to the incredibly sweet, sad "Little Flowers"...I found something that expressed my feelings on nearly every page." 5 Stars USA ---------"Enjoyable reading...a clever and interesting style of writing and I hope there's more to come." 5 Stars UK --------"Some of these poems stood out for me, but I enjoyed them all and I know I shall read them again very soon." 5 Stars UK
SOMEONE'S STORY
Observations in Verse
A tentative moment, a fleeting expression, a furtive glance - they can each provide a momentary glimpse into someone's life. In a single instant. a history is revealed for those who choose to see. There, within the lines and creases, like riverbeds and gullies, are the hopes, dreams and disillusions of a path traveled and choice made.
SOMEONE'S STORY takes the reader on an emotional journey through those brief moments when we can feel another's life. The author's own photography creates a subtle melding of the pictorial and verse.